Why are Keywords Important on Pinterest?
If you've spent any time trying to learn Pinterest marketing, you know keywords are important, but you might not understand why. Keywords are important on Pinterest because it is a visual search engine. People use Pinterest to search for new ideas and solve problems. Pinterest knows what pins to show to those people based on what is in the image, and also keywords that are used on the pin, and throughout a creator's profile.
You want to make sure you are using the right keywords, so your pins show up for the people that need to see them. This is called Pinterest Search Engine Optimization (SEO). In this post, I outline several ways to find keywords for Pinterest SEO.
Know Your Ideal Customer
When you begin your keyword research, start by thinking of your ideal customer. You need to think about what they search for, and what terms they use. Consider what problem you are solving with your content, and what questions your ideal customer asks when trying to solve their problem.
Where to Find Keywords on Pinterest
Once you have some terms to start with, you can get going with the research. There are several places within Pinterest to do this.
Guided Search
I like to start with the search bar. Pinterest guided search is similar to Google, where as you start typing it will predict what you are searching for based on popular search terms.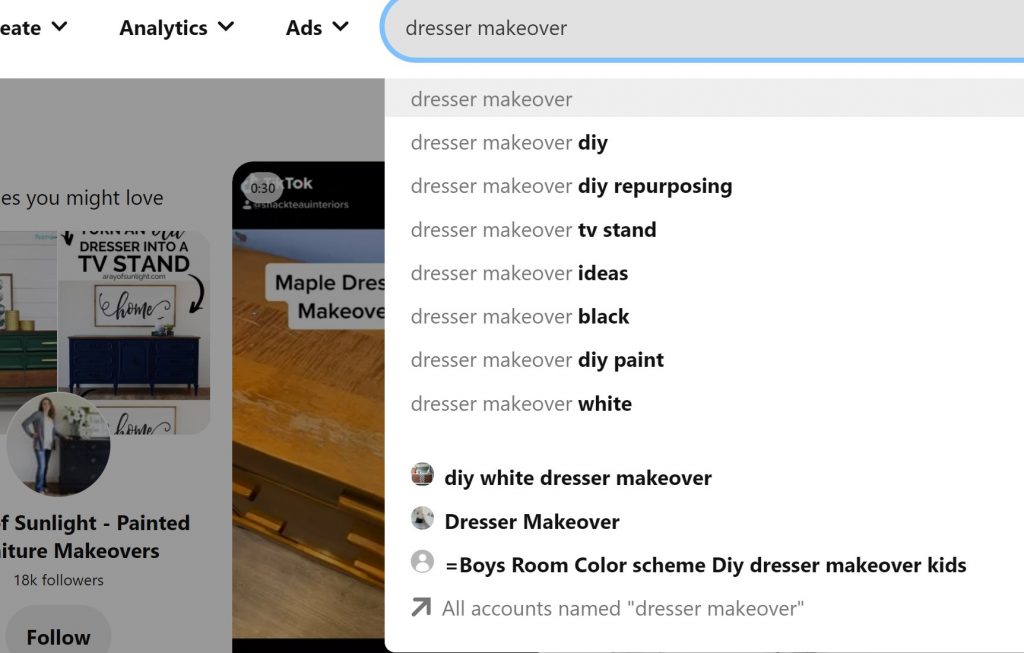 I take note of all the terms that show as I start typing. I keep track of my keywords on a spreadsheet. So in this case of "Dresser Makeover", I would record:
Dresser Makeover
Dresser Makeover DIY
Dresser Makeover DIY Repurposing
Dresser Makeover TV Stand
Dresser Makeover Ideas
These are my broad keywords. Next, I'm going to get more detailed, for some long-tail keywords. I do this by clicking the next term and seeing what populates after that. So when I click Dresser Makeover DIY, I get: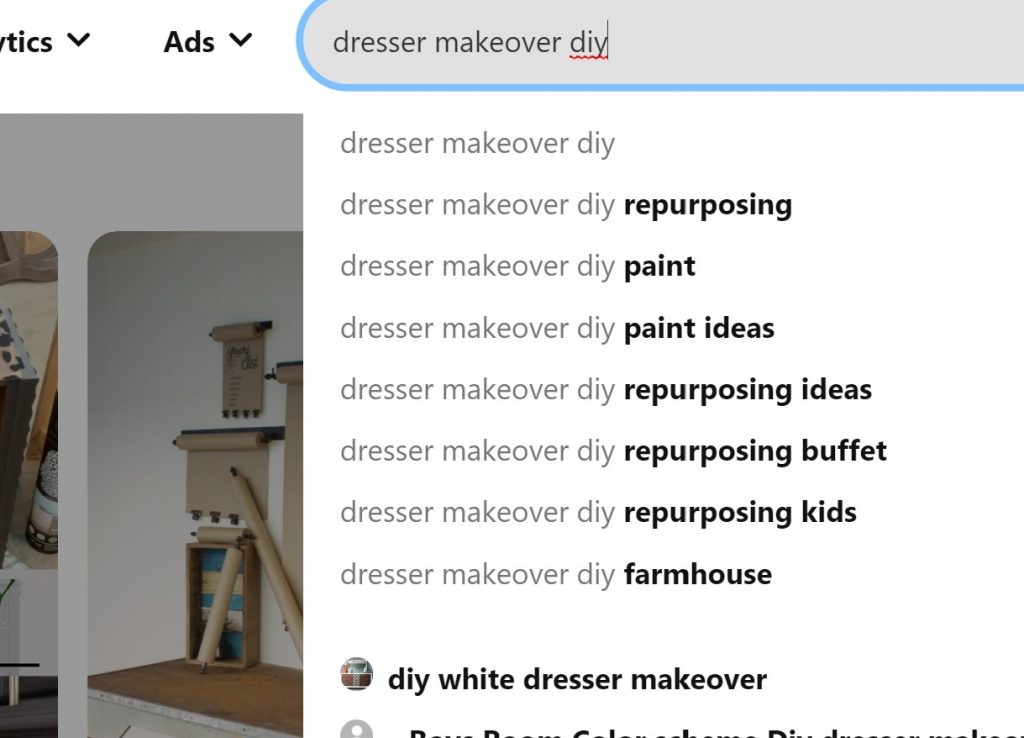 Dresser Makeover DIY Repurposing
Dresser Makeover DIY Paint
Dresser Makeover DIY Paint Ideas
I can keep doing this process until it stops suggesting terms. So when I keep adding to Dresser Makeover DIY Repurposing, I can drill down to these terms: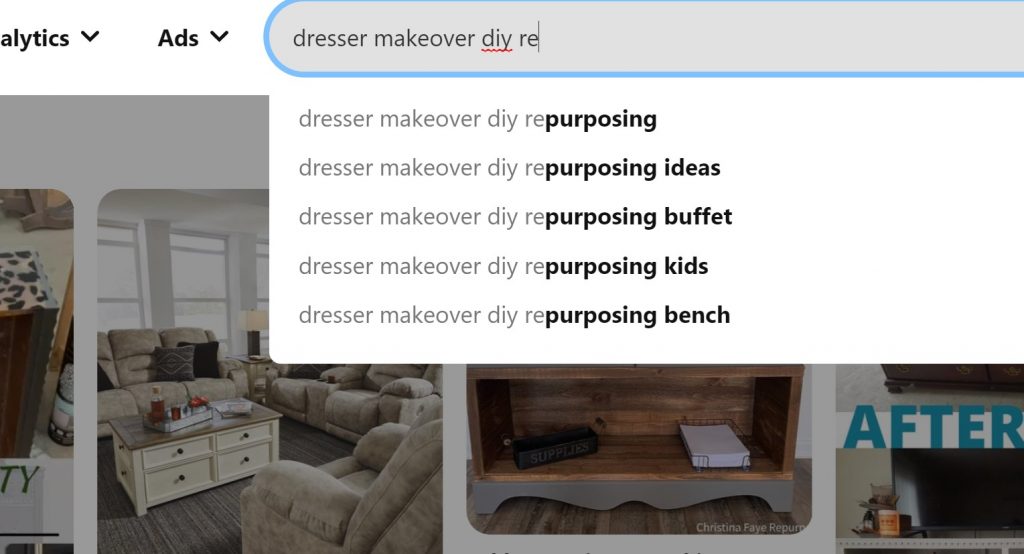 Pinterest Keyword Bubbles/Tiles
Another place to get keywords is from the colored bubbles or tiles that show at the top of the screen after you do a search. This suggests additional keywords to go with the one you originally searched for.
I actually waited to write this blog post, because there is still some inconsistency if the keyword bubbles/tiles show or not, and I was waiting to see if Pinterest completely got rid of them. So far they are still around for some search terms, but I see them less and less.
Here is an example of them showing for the search term "Bullet Journal". After you search for something, Pinterest will show bubbles of more detailed keywords you can search under. The process is similar to what I described above. Just keep clicking the tiles to display additional keywords until you get to the most detailed long-tail keyword for a term. Make note of the broad and long-tail keywords you find.

I am not going to go into more detail about the bubbles at this point, because I think Pinterest will continue to phase them out, and I want you to know how to do keyword research without them.
How to Use the Pinterest Trends Tool
The Pinterest Trends Tool is a newer tool to search for keywords. You can access it by going to https://trends.pinterest.com/.
This tool not only shows you what terms are popular and trending on Pinterest, but it also tells you WHEN it trends. This helps you get your content out at the right time.
So if you have a Christmas product, and you type "Christmas Decor" in the trends tool, you will see that search term peaks on November 7th. You don't want to first pin your product in November, because it takes a little time for pins to index. You want Pinterest to understand your pin, well before that peak time (at least 45 days before the peak). For Christmas, I would pin in late July or August. Pinners are planners, so a lot of people will be searching for Christmas stuff early.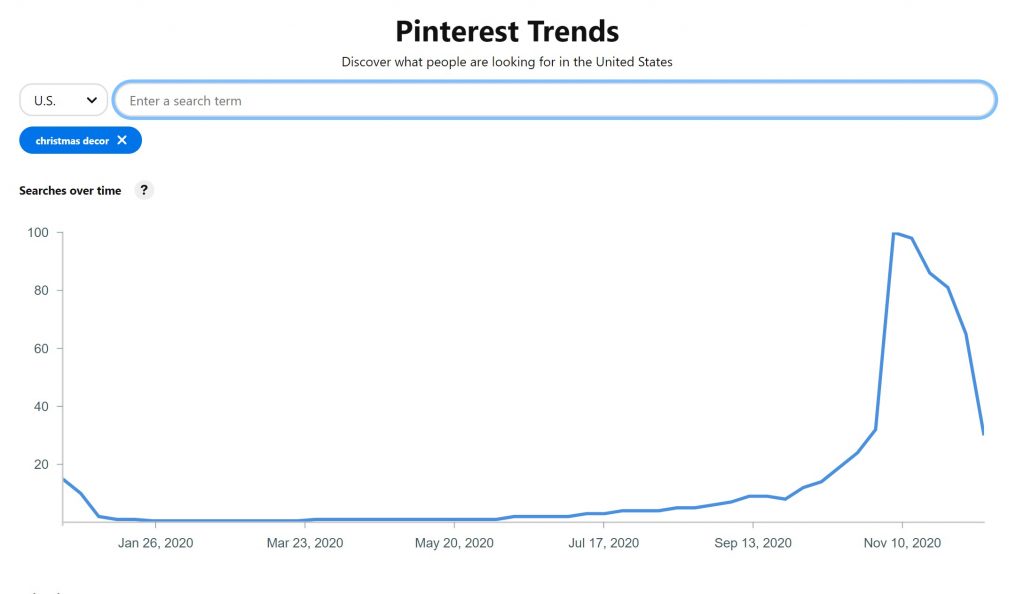 I like to use the Trends Tool in conjunction with the search terms I find in guided search. So let's use the "Dresser Makeover" example from above.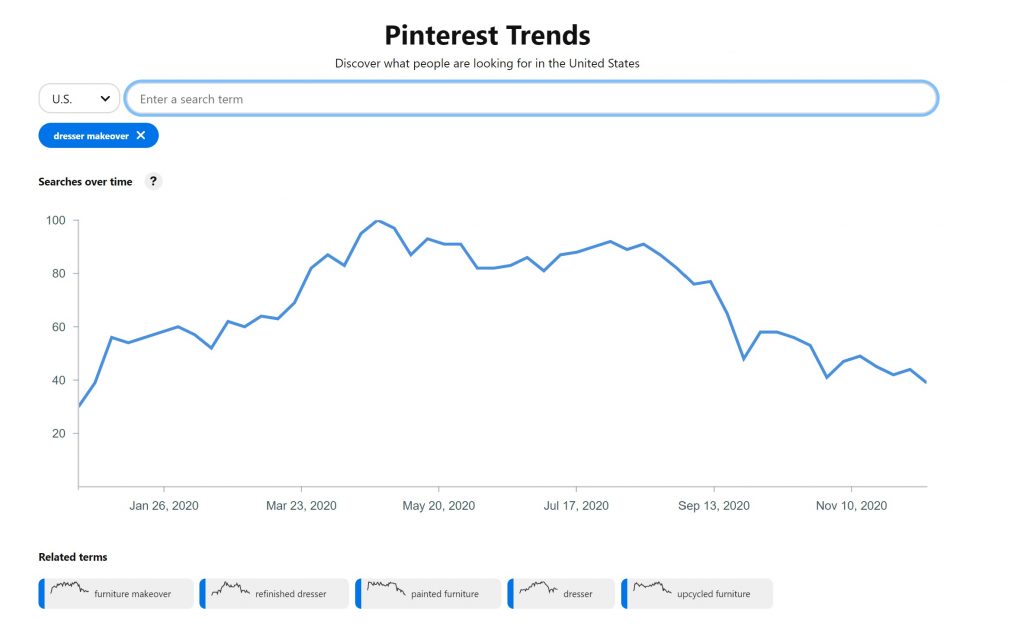 When I put in this keyword, it will show me when it is the most popular. It also gives me additional keywords to try, along with some pins that go along with that keyword. That is a good way to check and make sure my content fits with what Pinterest considers a "Dresser Makeover."
My next step is to click a few of the suggested terms below to see how they compare to "Dresser Makeover." The tool uses a scale of 1-100. This doesn't indicate how many times a term is searched, but is more of a comparative scale.
In the image below you can see how "Dresser Makeover" compares to some of the other similar terms.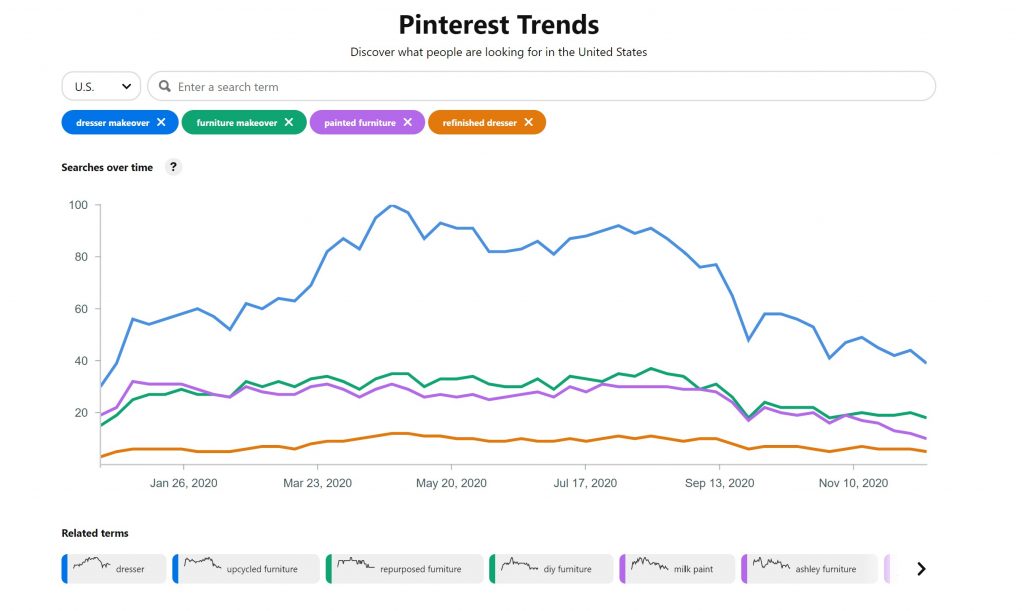 To demonstrate how the 1-100 scale is comparative, here is how Dresser Makeover compares to the peak of "Christmas Decor". The Christmas Decor peak makes Dresser Makeover look tiny. This isn't to suggest "Dresser Makeover" isn't a worthwhile keyword, it's just to show how the tool works.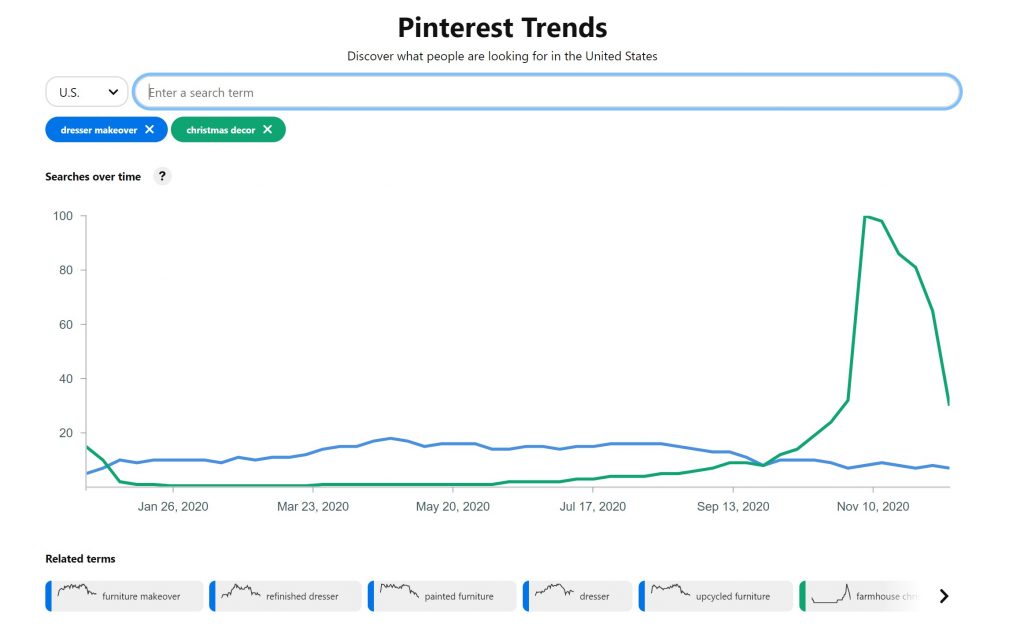 The Pinterest Trends Tool can also help you research future content ideas. It will show weekly top Pinterest Trends, and trends for particular categories. It's a fun tool to play around in!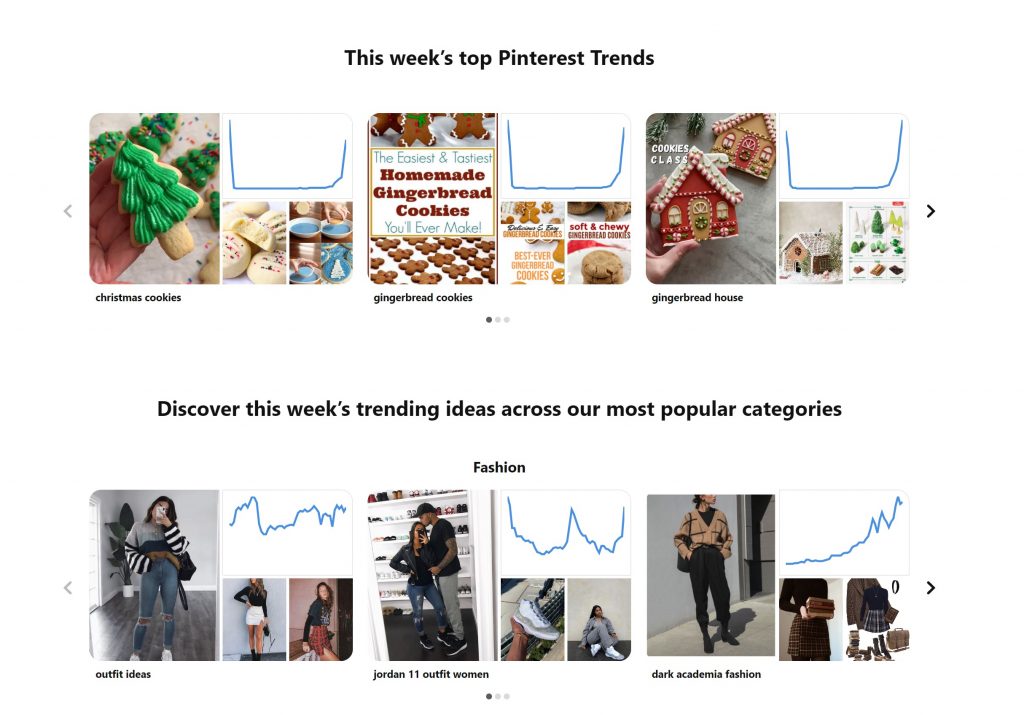 Search for Keywords in Ads Manager
Finally, a lesser-known place to search for keywords is in the Pinterest Ads Manager. To access this, click on the Ads menu at the top of the screen, then "Create Ad". It will make you select a campaign type. It doesn't matter what you click, because for this purpose you aren't actually creating an ad. After you click continue, scroll down to the Keywords section. This is where you can input your keywords and get a basic idea of how often a term is being searched, along with related keywords.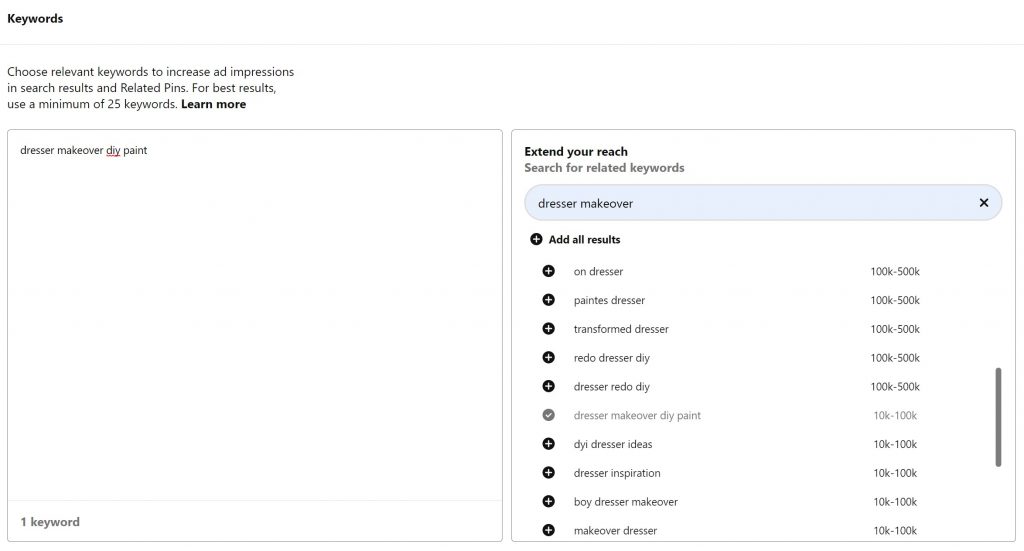 Where to Use Keywords for Pinterest
Now that you have done the keyword research, you need to know all the places the keywords need to go. I discuss this in more detail in my post Where to Use Keywords on Pinterest. Make sure to check it out! If you need a place to keep track of your keywords, check out my Pinterest Planner. It has a keyword tracker and so much more!
Need Help?
Keyword research and optimizing your Pinterest profile with keywords in all the right places can take time. If you need help getting this done, I offer this as part of my Pinterest Management Packages. Contact me, and we can discuss how I can help you with your Pinterest Strategy.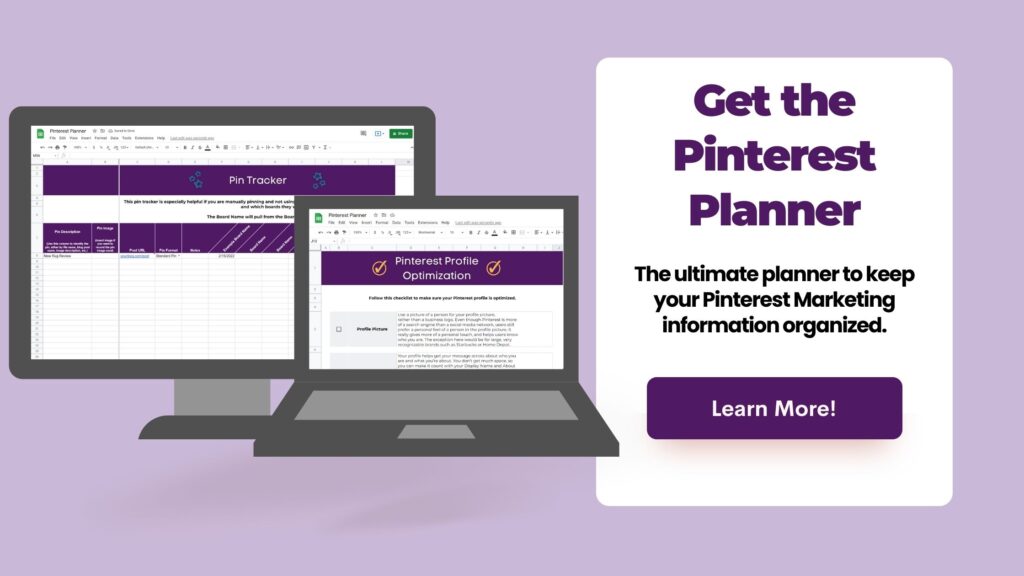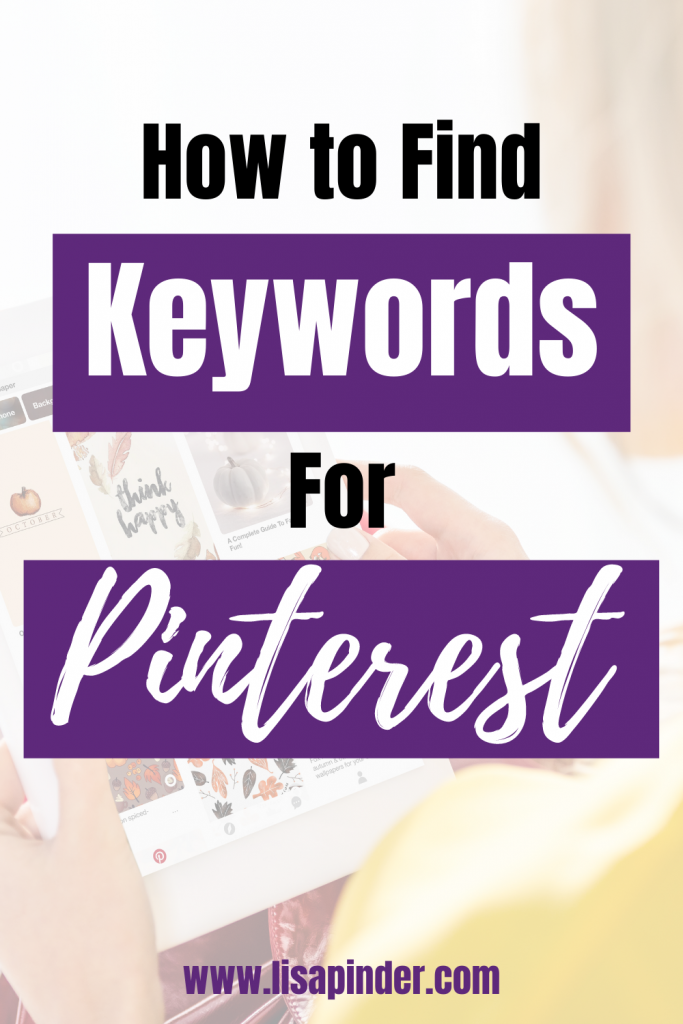 How to Find Keywords for Pinterest SEO