Beginner's Guide to Pinterest for Business
Are you thinking about using Pinterest for business, but you have never used Pinterest yourself? Or do you use Pinterest for your personal life, but not sure how Pinterest works for businesses? If so, this Beginner's Guide to Pinterest is for you! I am breaking down the basics to get you started.
Pinterest is an amazing tool to get more traffic to your website or blog. Many people lump it together with other social media platforms, but it is really a Visual Search Engine. People often go onto Pinterest looking for something specific, the same way they would search Google. Keep reading to learn more about how you can use Pinterest for your business.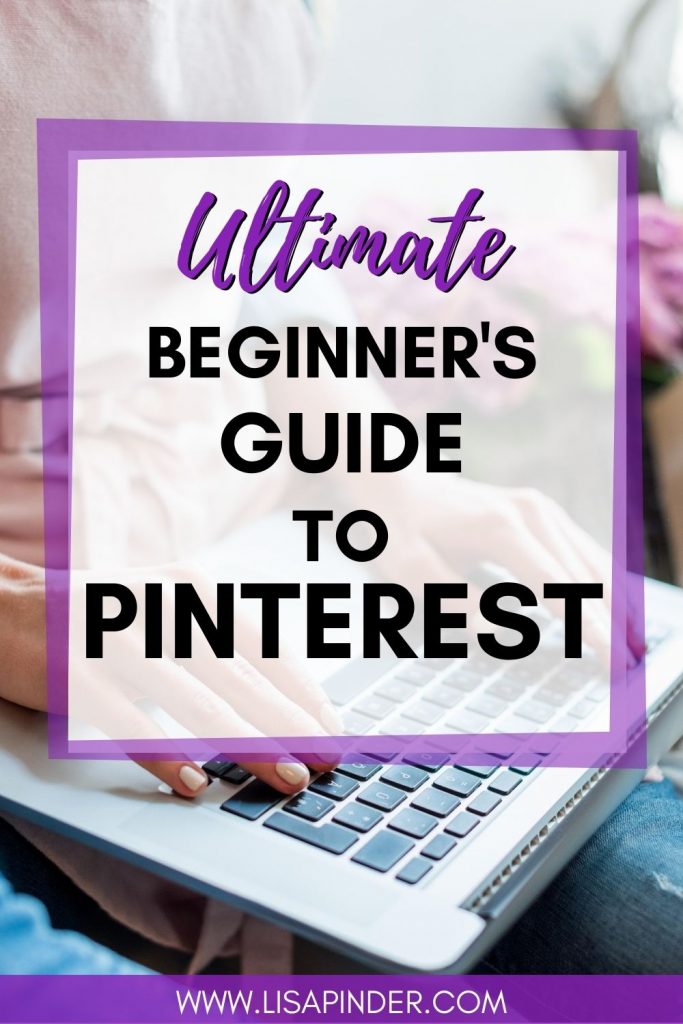 What is Pinterest?
According to Pinterest's own help guide:
"Pinterest is a visual discovery engine for finding ideas like recipes, home and style inspiration, and more."

https://help.pinterest.com/en/guide/all-about-pinterest
I was a typical Pinterest user for years before I started using Pinterest for business. I used it back when it was in beta and by invite only, so I have a good understanding of how the average user uses Pinterest.
Before Pinterest and blogs existed, I used to read magazines. I would tear out articles, recipes, and other ideas I liked and put them in a binder organized in different categories. When Pinterest came along, it replaced my binder. I could now save recipes and ideas from the Internet to my Pinterest boards, organized by category.
Pinterest can also be thought of kind of like a digital bulletin board that you pin ideas and inspiration to.
Beginner's Guide to Pinterest – Basic Vocab
Pinner: The Pinterest user
Pin: An image or video on Pinterest linked to content outside of Pinterest. This could be a blog post, landing page for an e-mail opt-in, or sales page.
Board: A place where pins can be saved within Pinterest. A pinner has multiple boards organized by categories. Pinterest boards are a way for users to group and organize the pins they find. They might have boards for recipes, home decor, or favorite podcasts, etc. Please note, a typical user's boards will probably look different than someone that is using Pinterest for marketing.
Save: A user can save a pin to one of their boards. This is also known as repinning.
Follow: There is a "Follow" button to be able to keep tabs on other Pinterest users that match their interests. When a user follows someone else, they will see pins from that pinner on their Following tab. They may also see that user's pins on their home feed and in their notifications.
Rich Pins: Rich pins show meta data from a website directly on the pin. So if someone pins from your website, the meta data description will follow the pin. Rich pins need to be set up before this functionality works.
Promoted Pins: These are Pinterest Ads. Businesses pay Pinterest to show their pins to a larger, more targeted audience.
Keywords: As mentioned above, Pinterest is a search engine. So keywords are very important for Pinterest Search Engine Optimization (SEO). This linked post outlines all the places keywords should be used on Pinterest.
The easiest way to find keywords and phrases is to start typing into the Pinterest search bar to see what the suggested search terms are.
Pinterest has been playing around with related keywords a bit. They sometimes show as little colored bubbles below the search bar, but that has been phasing out. Recently for larger search terms, it will show additional categories. Here is an example when I search for "Kitchen Remodel". It shows different styles of kitchens to narrow down my search results more. These are the words you would want to use in your Board and Pin descriptions.
You can also use the Pinterest Trends tool to search for keywords. Access the tool at: https://trends.pinterest.com/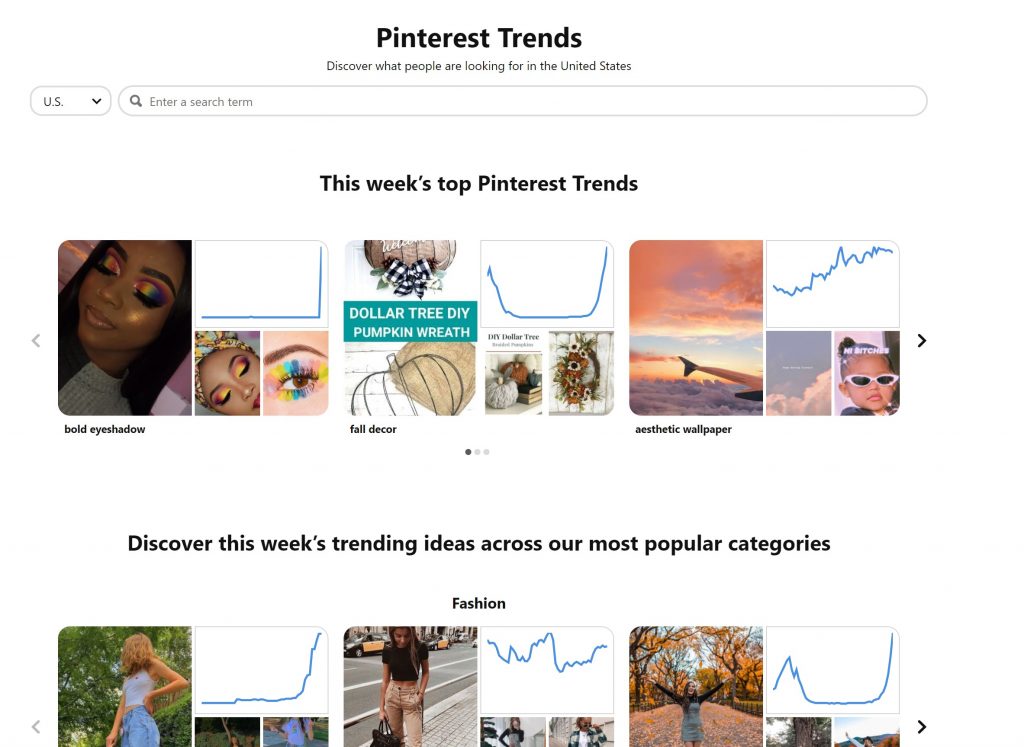 Pinterest for Searching
The average Pinterest user visits Pinterest looking for ideas and inspiration. Often they are looking for a solution to a problem. Their problem could be something like what to cook for dinner, parenting tips for a strong-willed child, or how to start a blog. They could be looking for ideas to decorate their house or handmade gifts for their mother-in-law.
They will search for these items and see a selection of pins related to their search. If one catches their eye, they click on it to take a closer look. They can then choose to click through to the website that it is linked to and/or save the pin to one of their Pinterest boards.
Below is an example of a user searching for a term in the search bar: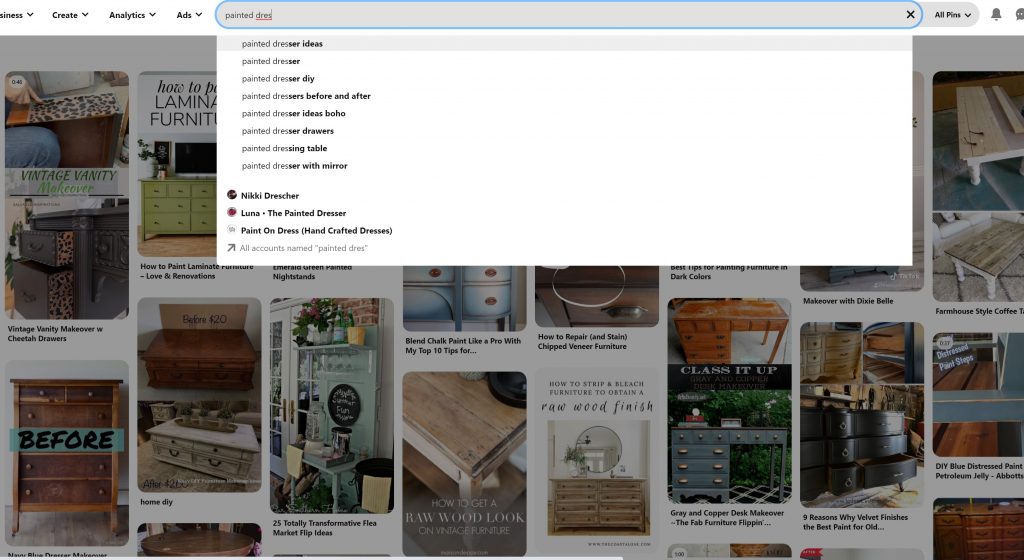 When the user sees and image that catches their eye, they can click on it for a closer look. From this view, they can click the image or link to be taken to the website that is linked to the pin, or they can save the pin to one of their boards.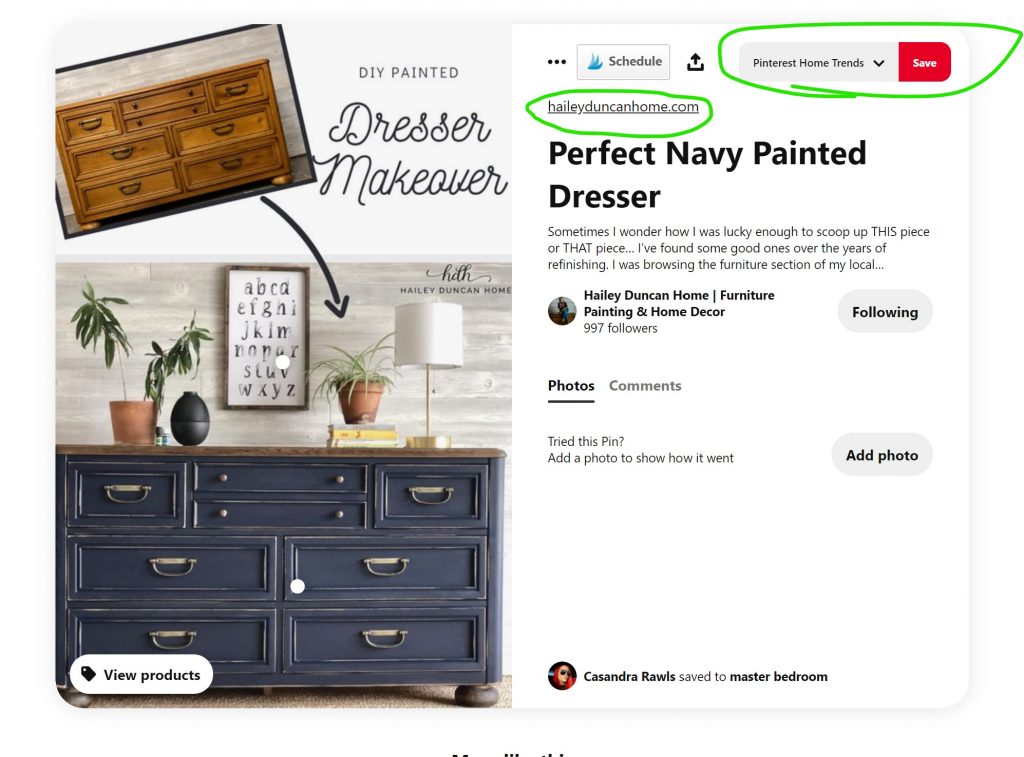 This post may contain affiliate links, which means I will earn a small commission if you make a purchase using one of the links.
Pinterest for Browsing
Not every Pinterest user gets on the platform specifically for searching every time. There are times users will just hop on Pinterest and browse. It's a great time killer! Pinterest's algorithm works to show users content they think the user will want to see in their home feed. Some things it takes into consideration for what it shows a user is what that user has searched for before, and what they have saved and interacted with before.
Pinterest Users
Pinterest users are often planning for a purchase that will happen some time in the future. In fact, 83% of pinners have made a purchase based on content they have seen on Pinterest! This is a huge opportunity for marketers!
Users will click on pins that interest them. If it's a good picture or something they might want to reference in the future, they will save the pin. If they can tell from the pin image that the content will solve a problem they are searching for, they will click through to the content that the pin is linked to.
How to get started with Pinterest for Business
Now that we have covered what Pinterest is, let's talk about getting started with Pinterest for your business.
1. Create a Pinterest Business Account
When you are using Pinterest for business, you need a business account. This will give you access to analytics, rich pins, and promoted pins. If you already have a Personal account, you can reference this post about switching to a business account. If you are brand new to Pinterest, go here to create an account.
2. Claim your website
This will help Pinterest identify pins that come from your website. The platform is favoring pins that you save from your claimed accounts, so this is an important step!
To claim your website, go to the Pinterest Menu (3 dots in the corner), and select "Edit Settings", then choose "Claim." Then you will need to add a meta tag to your website.
On a self-hosted WordPress site, the easiest way to add the meta tag is to use the Yoast SEO PlugIn, where you can paste your metadata confirmation under Social > Pinterest.
For WordPress hosted (www.wordpress.com) sites, you can paste the metadata under Tools > Marketing.

Current functionality allows you to claim more than one website, along with a Shopify account. In the past you could also claim Instagram, Etsy, and YouTube accounts. As of 2022, that functionality is not available, but it can change.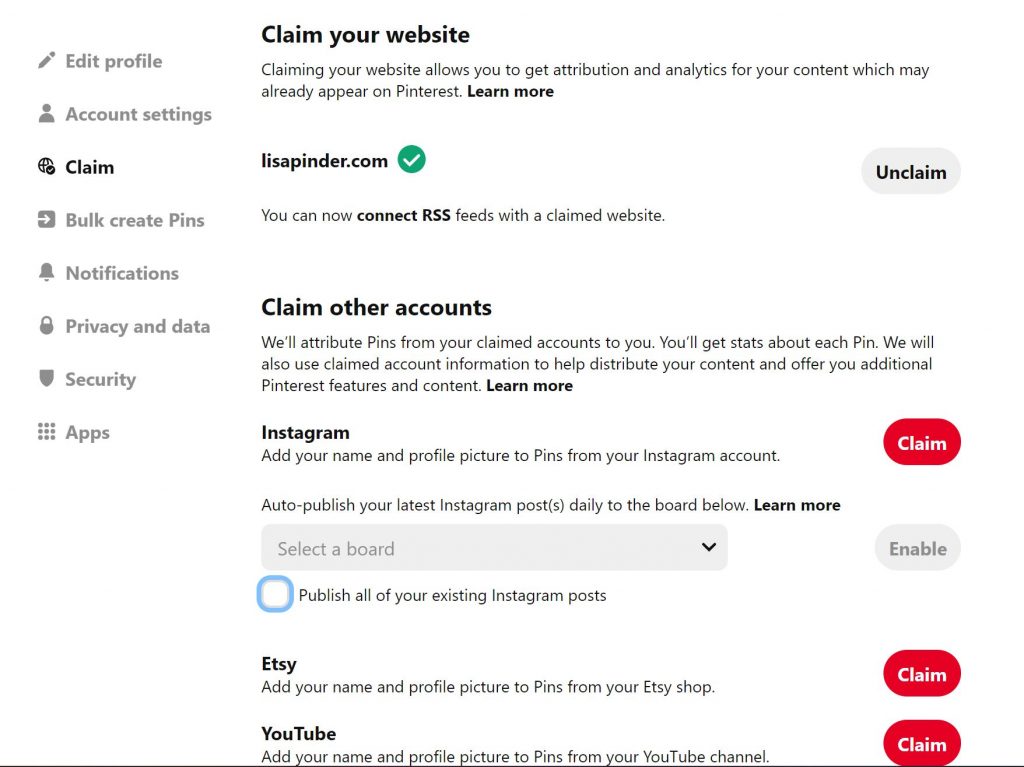 3. Enable Rich Pins
When a site has Rich Pins enabled, the pins from that site will include extra information. For example, the recipe pins you see that already have the recipe below the pin are rich pins. For recipe pins, you will also need a Recipe Plugin, which will determine which information shows on the pin. Non-recipe pins will show article titles and snippets, and sometimes the author.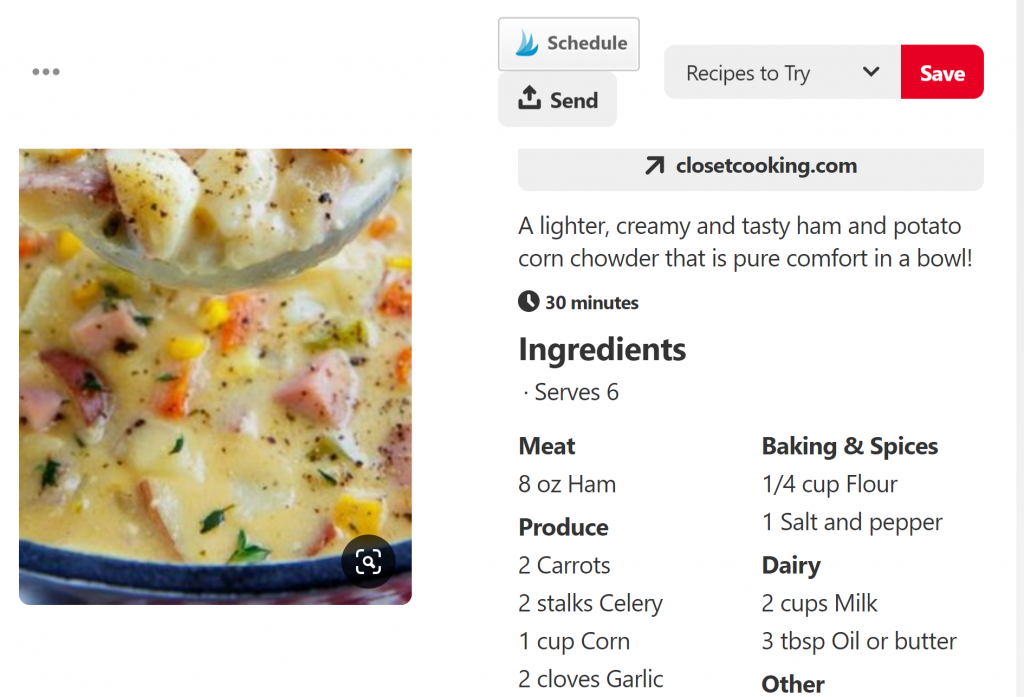 If you use Squarespace, your site is already set up with the proper metadata for Rich Pins.
If you use WordPress, you will want the Yoast plugin. Go to Social > Facebook > Switch "Add Open Graph Meta Data" to Enabled.
The next step is to verify your Rich Pins so they will appear on Pinterest. Just go to the Rich Pin Validator and paste any blog post URL in the form. If your information is validated, you will be able to select "Apply Now" to apply for Rich Pins. It can take a little while for your blog to be approved, but your rich pins will start showing on Pinterest in a few days.
4. Add relevant boards
Create some boards related to your niche that your audience would be interested in. Start with about 10 boards. When deciding what boards to create, think about 3-4 categories related to what you do, and then you can break those down to 3-4 additional, more specific topics. You want to have multiple boards that apply to each of your pins.
Also, create one board that is just for your pins. Many people call this a "Best of Board". This should be the first board on your profile, so if someone visits your profile, this is the first thing they see.
Then pin some high-quality pins to your boards from other pinners (at least 10-20 pins). This helps Pinterest understand what your boards are about before you start adding your pins to the boards.
To find and save high-quality pins, use the search bar to search for a term related to the board you are starting. The first pins that show in the top left, and the ones that are ranking that you want to save.
Start slow when you first start adding pins (of others' or your own). Pinterest sometimes flags accounts with sudden increases in pinning activity as spam. So ease into pinning for a few weeks.
While you are doing this, you can follow other influencers in your niche and see what they are pinning.
5. Create pins

Create your own pins to save to your boards. You can use a tool like Canva to create eye-catching images. They should be in a 2:3 ratio, such as 1000×1500 pixels. So tall pins, not short pins. Use bold, easy to read fonts and colors that stand out.
Text on the image helps it to stand out. Also, since Pinterest is a search engine, it can read what is on your pin, so image text helps Pinterest to know what your pin is about.
6. Pin/Schedule pins

Now you're ready to pin your own pins to your boards. To save pins to Pinterest, click the Create drop down, and select "Create Pin". When the new window opens, upload the image you created. Give your pin a title using keywords, and write a description in complete sentences and natural language (rather than a long list of a bunch of keywords).
Add a link to the content you want to take users to, then select the board you want to save it to and hit Publish. That's it! Now when someone clicks on your pin, they will be taken to your site!
Alternatively, you can also save a pin directly from your website. This is a good practice at least for the first pin of a blog post to make sure you have pin descriptions filled in for your pin, and they flow to Pinterest correctly.
Start with standard pins first, and once you have a hang of that, you can try Video or Story Pins.
Always pin to the most relevant board first. Pinterest is giving priority and highest visibility the first time a pin is pinned. Later you can pin the same image to another relevant board. Pinterest has stated not to pin the same pin to more than 10 boards.
There is not a magic number of days to wait before pinning to the next board, but I would wait at least 7 days. You may need to test it out, and it will depend how much other content you have to pin in between. You just don't want to appear spammy by pinning the same image over and over. I typically wait 8-14 days before pinning to additional boards, but waiting months to repin is fine too.
You can use The Pinterest Scheduler to schedule your pins for later, or a paid tool such as Tailwind. Tailwind will allow you to schedule more pins at one time, and farther into the future. The Pinterest Scheduler is limited to 30 pins at a time and only two weeks into the future.
Do not pin the same image to the same board more than once or twice a year. Read more about the reasoning of this and fresh images here.
What content should you pin?
When you use Pinterest strategically it is a great way to get more traffic, leads, and sales. So what kind of content can you link your pins to? You can link your pins to blog posts on your website. Your blog posts should have a call to action, opt-in, or affiliate links. These things can help you grow your email list or increase your earnings.
You can also link directly to a landing page with an opt-in to grow your email list, or directly to a sales page to sell your product or service. These are all great ways to get more eyes on your brand.
Read more about how to optimize your website for Pinterest.
When you are planning content, remember it takes time for pins to pick up steam. Pin seasonal content about 45 days before a holiday/season. Pinners are planners, so they will start pinning Christmas and holiday pins in October, so make sure your content is out there early.
Know the right numbers
It's really easy for Pinterest users to get caught up in their "Monthly Viewer" number on their profile. For one thing, that number is usually the biggest number, so it's exciting to see it climb. However, that number is a vanity metric, and doesn't really tell you much about how you're doing on Pinterest.
Monthly viewers just means the number of people that have seen ANY of the things you have pinned on Pinterest. These could be pins from other people, not just your pins. It also means, they could have just scrolled on by, it doesn't mean they are clicking anything. This number can fluctuate a lot. So if you see a drop of 50,000 viewers in one day, that is nothing to worry about. This is a rolling 30 day number. It could just mean at some point you pinned something that went a little viral (could be someone else's pin), and now it is slowing down so not as many people are seeing it.
The number to care about
The number that matters is "Link Clicks" for your pins. This means someone clicked through your pin, and went to your website or landing page. This is why you are on Pinterest in the first place, to get more traffic! So this is the number you want to see increase. You can view this number in Pinterest Analytics by going to Analytics > Overview. Then on the left side, select your claimed account, and under Performance of Time, select "Link Clicks". This will show you how many clicks you are getting.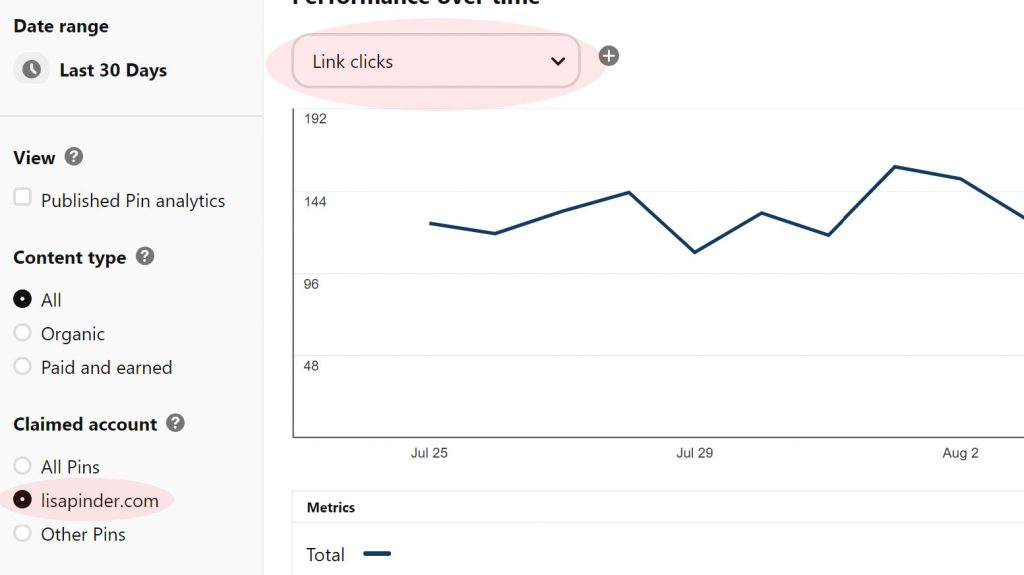 You can also see this number in Google Analytics, which is considered the gold standard of accuracy for website visits. However, since this is a beginners guide to Pinterest, checking your link clicks in Pinterest Analytics is a good start for beginners.
If your link clicks are decreasing over time, then it is time to do some troubleshooting. Ask yourself if your pins are easy to read, and if they are interesting enough to prompt a user to click on them. Don't give all the information away on the pin, because then there is no reason for the user to click to your website.
Give it time
Pinterest is a long game. It can take 6 months to really start to see an increase in traffic to your website. So if you aren't seeing results in a month, give it time. The pins you are pinning now may end up taking off in a few more months and being your biggest drivers of traffic.
It is important to stay consistent with your pinning, so don't give up!
If you need help with getting started or with your strategy, I do Pinterest account audits and strategy sessions to help you sort some of these things out. I also do monthly Pinterest account management if you want to hand over these tasks to someone else.
---
Other helpful posts about Pinterest: