Updated January 2021
Like most major online platforms, Pinterest is always changing. Recently, Pinterest made new recommendations that might change the way you have been doing things. Pinterest can still be a key part of your business marketing strategy in 2021. I am going to talk about the best practices for Pinterest that you can be using to see growth in 2021.

This post contains affiliate links. If you make a purchase after clicking a link, I will earn a small commission, at no cost to you. Privacy Policy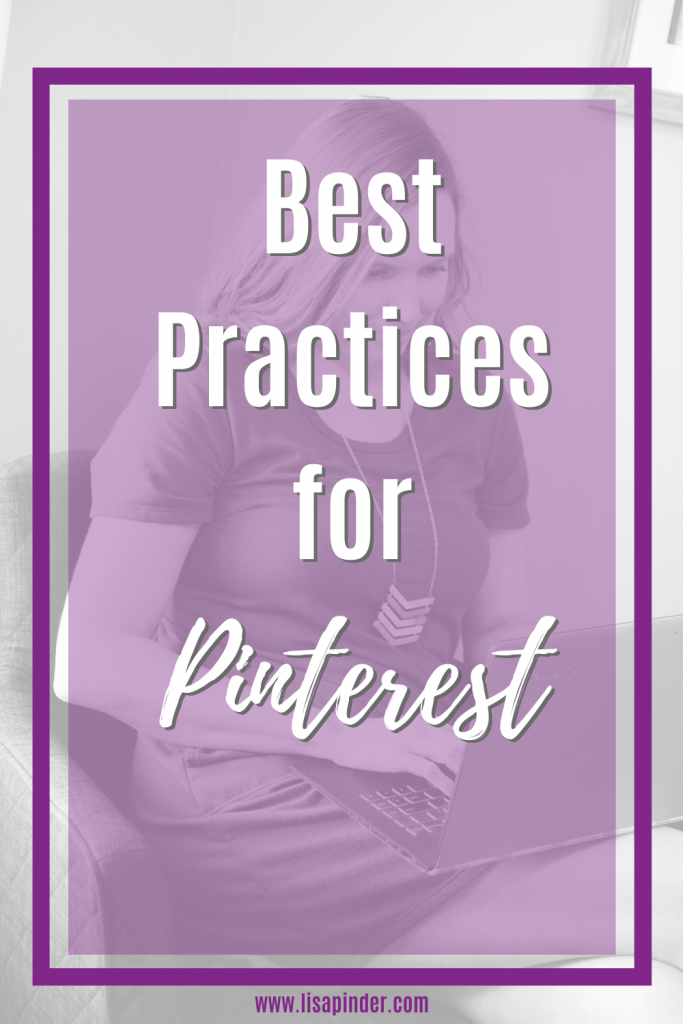 One of the big changes is Pinterest's recent push for "fresh content." Pinterest wants to be useful and relevant to its users, so it wants more recent and relevant content on the platform.
I truly believe the #1 thing you can do to help your Pinterest presence in 2021 is to create fresh content.
So…what does fresh content mean?

Fresh content means new images. This can be for new content on your blog, or older blog posts. You can give new life to old posts with new images.
New descriptions and titles on your pins do not count as a fresh pin. You need a new image for it to count as fresh.
If you have product pins, you can have different images of the same product. Try a close-up detail shot of the product for one pin, and a lifestyle photo of the product in use for another.
Moving the background image a few pixels or other subtle changes does not count as a new pin.
Use your own photography if you are able, so it is different from all the free stock photos that are used on Pinterest already. Paid stock photography is another option to stand out more.
Don't pin the same image to a board more than every 4-6 months. To clarify this further, you can have different images that lead to the same URL on the same board, but the pin image should be different. And really, I would only repin that same image after 6 months, if it is a high performing pin or seasonal content that is relevant again.
The image needs to relate to the content it is linked to. Make sure the image is relevant to your content. Titles and descriptions on the pins, also need to describe the content they are linked to.
Below is an example of three different pin images for the same blog post. These are considered new pins, and can each be pinned once to the same board.

Notice the first and second image are actually the same photo, but the first image is zoomed in closer to the microphone and hands. This is a big enough difference that it is a fresh pin.
New Strategy
This is a change in strategy for a lot of people that were used to repinning their old pins over and over.
With the new best practices for Pinterest, you should be spending more time creating new content and new pin images than curating old content.
With that said, you still want to focus on quality over quantity. Don't create a bunch of pins that don't catch attention. You want to create pins that encourage people to click on them, so make sure they are high-quality pins.

What does a high-quality pin look like?

Your pin images should be interesting and grab attention. Use text overlays to describe the pin. Choose easy to read fonts and bold colors. Pinterest recommends a 2:3 ratio for the size, such as 1000×1500 pixels. The pins should also have good titles and descriptions with keywords. SEO is still important for Pinterest success.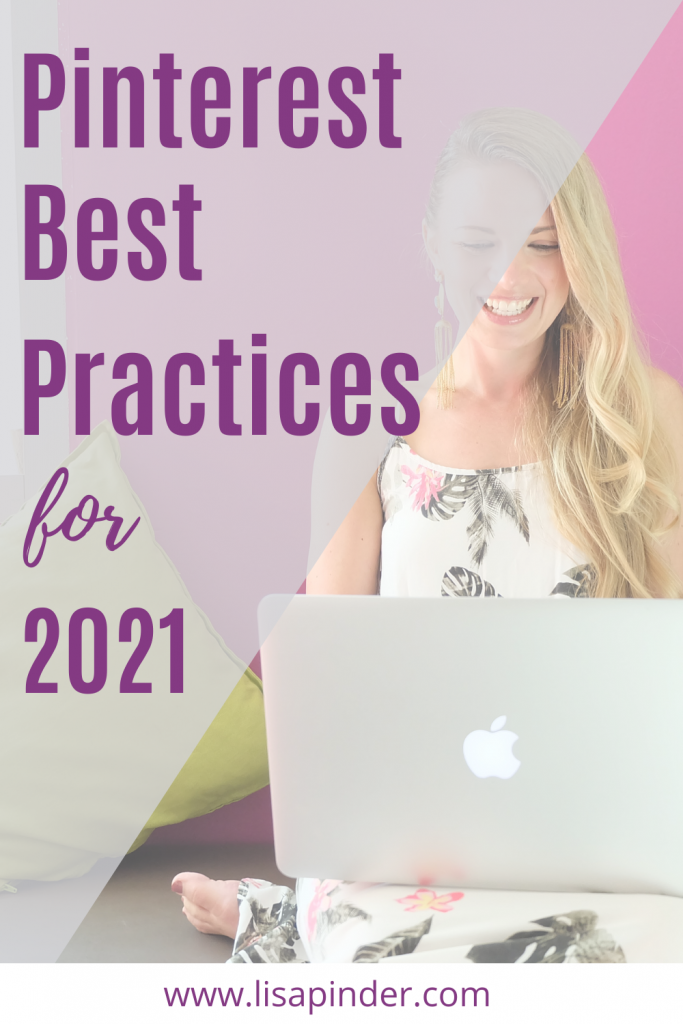 How to put this into practice
So what does this look like for a blogger? When you create a new blog post, create multiple pin images for that post. You can make more images later, but 2-3 is a good place to start so you don't get overwhelmed.
Pin the first image to Pinterest with a good keyword-rich description. Pin it to the most relevant board first. I like to use Tailwind to schedule my pins, so I know they are published at the most ideal times for my audience. You can use Tailwind to schedule additional copies of that pin to other relevant boards every 7-14 days.
Using Tailwind
Tailwind has a new feature to help make sure you are keeping up with Pinterest best practices called SmartGuide. Tailwind is a Pinterest partner, so they make sure to keep up with Pinterest recommendations.
If you are following Pinterest recommendations (as far as pinning frequency), you will see an "All Clear" at the top of your pin schedule. If you are pinning the same image too frequently, you will get an alert, so you can fix your schedule and avoid being spammy.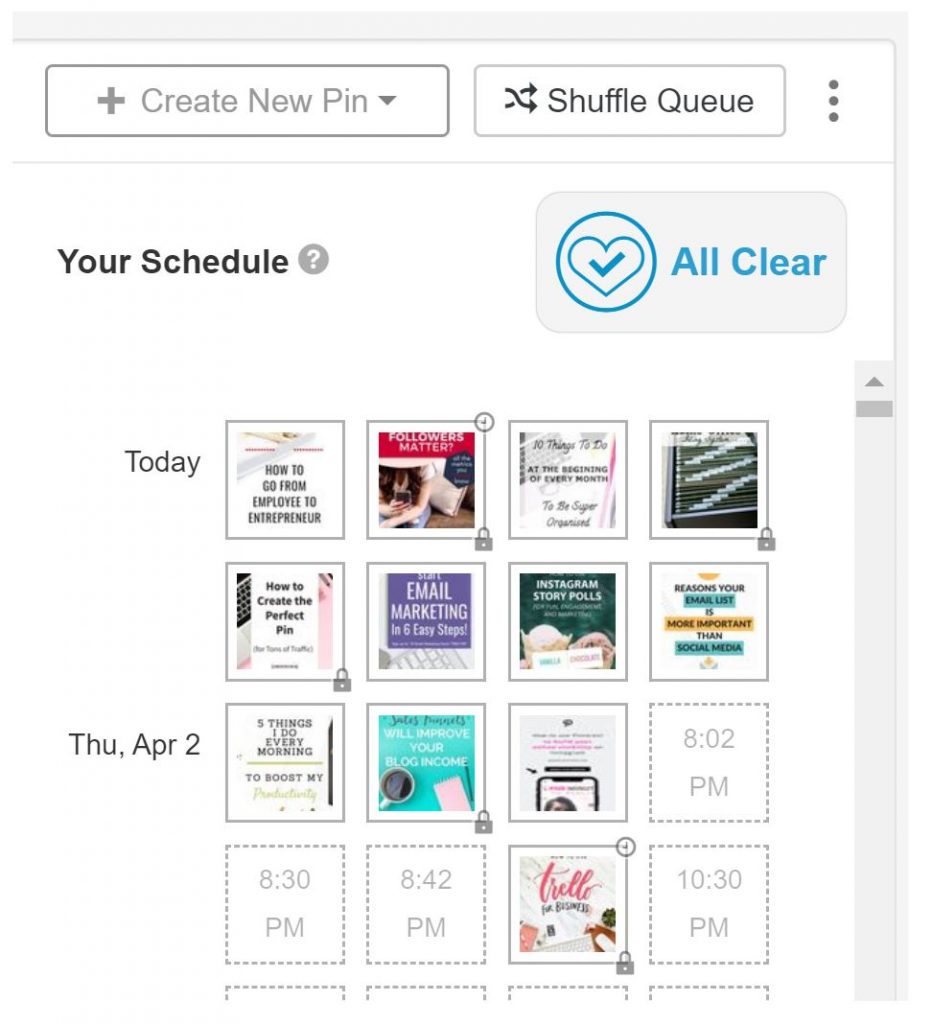 Basically SmartGuide will make sure you are following Pinterest best practices, and monitors your queue to make sure you aren't doing something that might hurt your Pinterest reach.

After you have scheduled the first pin, you can schedule additional pins for the blog post as well.
Reusing Older Content
You can also go back to your old blog posts and create new pin images and pins for your older posts. If you need to update content in the post, this is a great time to do that as well, to keep it relevant.
Video Pins
Creating video pins is a great way to have fresh content. I have seen a lot of success from creating videos for older content. Pinterest is definitely distributing video pins more. The one problem with video pins is the user actually has to click on a link to get to your site, rather than just clicking on the big image like a regular pin. Some people say video pins aren't worth making because they don't result in as many clicks, however I have found the return worth it. One of my clients has seen great results with video, and her three top pins for clicks to her website are all video pins! So I think it is worth giving video a try to see if they work for your audience.
Idea Pins
Idea pins are continuing to roll out around the world. Incorporating Idea pins into your content is another great way to boost your Pinterest strategy in 2021. Idea pins are similar to Instagram stories with different slides users can scroll through, but they stay on your account and don't disappear after 24 hours. There is not a URL link associated to them, but they are great for increasing engagement on your Pinterest account. You can also repurpose your Instagram stories as Pinterest idea pins.
Batch Your Work
You can see that creating new pin images is a big priority with the current recommendations from Pinterest. This can be a time-consuming task, but if you batch your work, it can save you time.
Have several pin templates you can use in Canva and switch out images and text. Then you can use Tailwind to schedule your pins. This way you won't be on Pinterest all day, but you can still pin consistently. Tailwind is my absolute favorite way to save time with Pinterest marketing!
If you are new to Tailwind, they offer a free trial that gives you 100 free scheduled pins (with no time limit), so it is definitely worth giving it a try!

How many boards should I pin to?

You should only save a pin to the most relevant boards. Pinterest has given a number of no more than 10 boards per pin. Most of the time, I am not pinning to more than five boards. The days of pinning to huge lists of personal and group boards are over.

Why should I follow Pinterest Best Practices for 2021?
I get it. What you have been doing is still working. Every niche and account is different, so it may keep working. However, Pinterest has said they will increasingly favor fresh content, and users engage more with new pins. So you may not continue to see the results you have in the past doing what you have been doing. A lot of people saw major drops in traffic in the second half of 2020, and many times it was because they hadn't adjusted their strategy.

Pinterest is prioritizing fresh content and new images, so if you are not pinning new images, your pins may not be distributed as much. The whole point of Pinterest for a business is to be seen and get traffic, so pin new content to be seen!

Worse case, if you are pinning the same image too frequently, or pinning too much, your Pinterest account could be suspended! So don't be spammy!

What about older pins?
Older pins, that you pinned months or years ago, can still bring you traffic. Never delete old pins! Even if the pin didn't initially bring you traffic, it could always pick up steam later, and show in a Pinterest search.
That is one of the beauties of Pinterest. What you create for Pinterest can benefit you way down the line, unlike Facebook or Instagram where you are lucky to get 24 hours out of a post.
Also, don't take time to update titles or descriptions of old pins. Your time is better spent creating new content and pins, since those will be favored more by Pinterest.
Need Help?

Do you need help with your Pinterest account? I offer a detailed Pinterest Review to audit your account and make sure you are following recommendations. With this service, I provide a video walk-through of my recommendations along with action steps you can take to boost your account. You also get a follow up call or Voxer support to ask any questions you may have.
I also offer full Pinterest Management Services, if you need help creating pins and scheduling them. Click the button below for more details.