When you are just starting out in the world of blogging or online business, you want to cut costs as much as possible. A Pinterest scheduler is a great tool to grow your business, but how can you schedule pins on Pinterest for free?
Why use a Pinterest scheduler?
One of the biggest tips I can give regarding Pinterest marketing is to consistently pin fresh content on Pinterest. Pinterest wants you to pin on a regular basis, they don't want you to pin 300 pins all at one time and call it good for the month. Tailwind is my preferred method for scheduling pins to Pinterest, but not everyone is ready to invest in a paid scheduler, or can spend time pinning manually. So I'm going to show you how to pin your pins to Pinterest for free!

This post contains affiliate links. If you make a purchase after clicking a link, I will earn a small commission, at no cost to you. Privacy Policy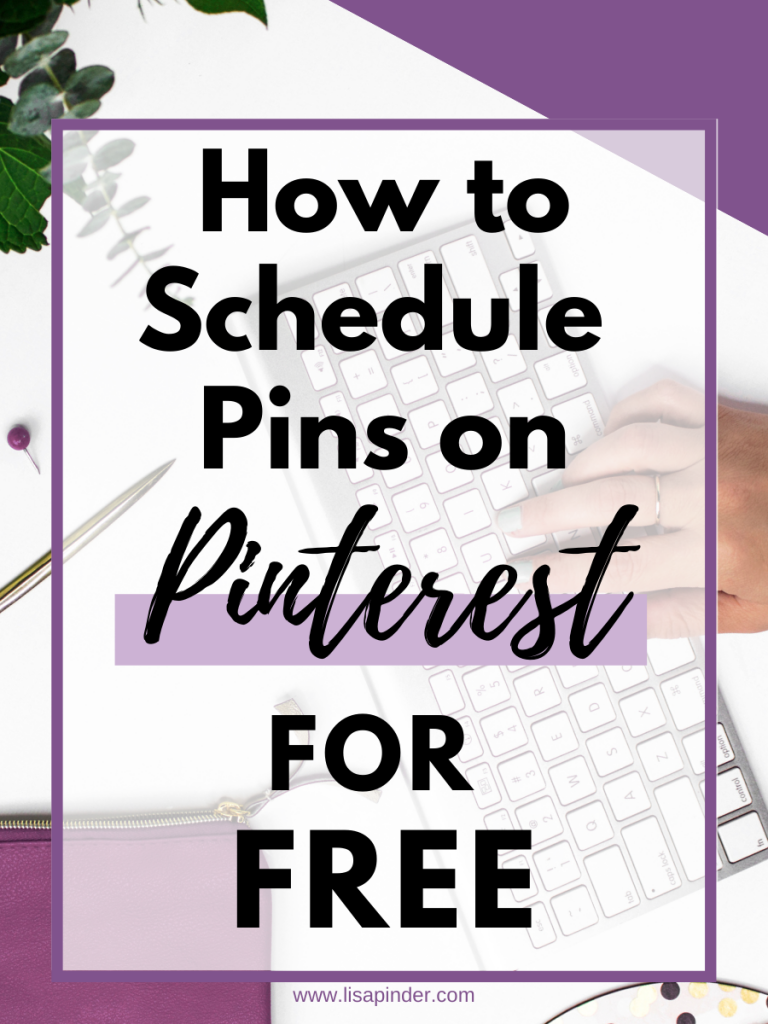 Pinterest Native Scheduler
Pinterest actually has its own native scheduler built right into Pinterest. It is not as robust as Tailwind, and you can't schedule as many pins as Tailwind. However, it is an excellent tool and timesaver for those just getting started on Pinterest, and aren't quite ready to pay a monthly fee to schedule pins.

Let's walk through how to schedule pins in Pinterest…

Click the plus sign to add a pin, just like you would create a pin to publish immediately.
2. Upload your pin image, select the board it will publish to, create a pin title, and keyworded pin description.
3. Instead of clicking "Publishi Immediately", select the button next to it to "Publish at a Later Date". Then you can select the day and time you want the pin to publish.
*Note: Once you hit publish you won't be able to edit the pin or time that it is scheduled, so make sure everything looks right.

4. Most likely you will want this pin to go to a few other boards, so before you hit publish, find the three dots in the upper left corner, and select "Duplicate". Click Duplicate for each board you are going to save it to.
5. Once you duplicate the pin, all of the information you filled in before will be there. Just change the board that you are saving it to and the date and time.
To avoid being spammy and follow Pinterest best practices, you will want at least a couple days between each copy of the pin, but preferably more days.

Once you click publish on all of your pins, the screen will look like this:
You can see what pins you have scheduled under the "Pins" menu on your profile:
If you click on one of the pins, you will be able to see the specific date and time of each pin. You can delete the pins, but you will not be able to edit them.

It is a pretty basic and simple tool, but it gets the job done. There are definitely some pros and cons to using the Pinterest native scheduler. Let's discuss….

Pros:

Ability to batch your work, and schedule pins ahead of time. This frees up your time so you aren't on Pinterest all day long.
Helps you pin consistently on Pinterest
The Duplicate feature is nice to be able to pin the pin to multiple boards. You just have to remember to click it before you publish!
Pinterest made it, so you know you won't get banned for using an unapproved tool.
It's FREE!
Cons:
Once a pin is published/scheduled, you can't edit or re-schedule them
You can only schedule two weeks worth of pins
You can only schedule up to 30 pins at a time
It doesn't give you the optimal times for you to pin, like Tailwind does
The scheduler does not have the ability to schedule a pin to multiple boards at one time (You have to remember to use the Duplicate feature)
Options for Scheduling Pins
I think the native Pinterest scheduler is handy for initially getting your pin out on Pinterest. Pinterest likes when you actually interact within Pinterest, as opposed to doing EVERYTHING within Tailwind. So even if you are using Tailwind, I think it's worth giving the scheduler a try.

The Pinterest scheduler is also perfect for those starting out, and not sure they want to pay for Tailwind yet. However, Tailwind does have a free trial of 100 pins (no time limit), so it's worth also trying Tailwind with the free trial.

For people wanting to save the time they spend on Pinterest, or those that have a ton of content to pin, I definitely recommend Tailwind. I'm sure it's possible to get by with the native scheduler, but Tailwind gives a lot more flexibility and features to make the task easier. You also get the bonus of Tailwind Communities for extra traffic.

Whichever scheduler you use, I want to be clear about some Pinterest recommendations.

Pinterest wants to see recent and relevant content, so make sure you are creating new images.
Don't be spammy! Don't pin the same pin image to one board multiple times (If it's been about 6 months, it's okay to repeat if it's a good pin). Again, Pinterest wants to see new images.
Wait at least a couple days before pinning one image to a different board (7-10 days is even better!). Don't pin your new image to all of your boards back to back.
Only pin your pin to the most relevant boards. Pinterest has said 10 boards should be the max for one pin.
Need more help?
Do you need help with your Pinterest marketing? I do Pinterest intensive account reviews, and can give you specific advice about your Pinterest account. I also do complete Pinterest management, so you don't even have to think about all of this scheduling of your pins. Click the button below if you want to learn more about how I can help you.