Your Boards Matter
When switching to a Pinterest business account, or creating a new business account, it is important to consider what boards are on your profile. You want to make sure they are boards that your ideal client is interested in. This will attract the right people to you, and it also helps Pinterest understand what your account is about, so it is shown to the right people.
How to Clean up Your Pinterest Boards in 4 Steps:
Step 1: Use Secret Boards
Scan your boards to make sure they are conveying the appropriate message to your audience. Do they relate to your business? If you have personal boards that are not related to your business, switch them to Secret.
A secret board will no longer show your pins to your followers, but you can still use your secret board for personal use. For example, if your business has nothing to do with recipes, you can still store your favorite recipes on a secret board.
You secret boards will show at the bottom of your board list, right above any archived boards. They will be marked with a little padlock icon, as seen in the image below.

Do NOT Delete boards. If you delete a board, you will lose followers, but if you turn them to secret, you will keep followers. Deleting a board also deletes the pins that are on that board. So if you happened to have a popular pin on that board, you would no longer benefit from it. Deleting a board can not be undone.
Another option is to Archive a board. This is a better option than Deleting a board. If you don't use the board anymore, and it has nothing to do with your business, you can Archive it. When you Archive a board, it will move to an archived section of your profile. No one else will be able to see the board, and you won't be able to save pins to it, but you can unarchive the board if you need to. When you Archive a board, you also won't see pin suggestions in your Home Feed based on that board.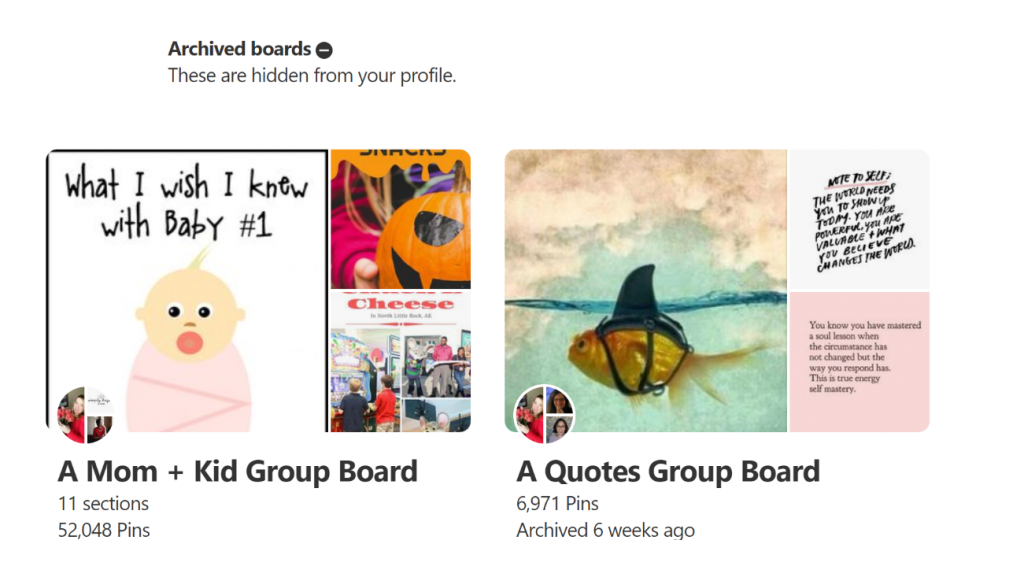 Remember, you want to keep boards that will attract your ideal audience. I blog about Pinterest and online business tips, but I want to attract bloggers and business owners that write about other topics. So I have kept boards that my ideal clients are more likely to see. I make sure they are boards that receive high engagement.
Step 2: Check your Board Titles and Descriptions
What you name your boards matters! Pinterest is a search engine, and it is looking for keywords. For this reason, you want to be pretty straight forward with your board names and avoid cutesy names.
For example, instead of "Get in my belly!" use the board title "Recipes". Even better, be specific like "Keto Dessert Recipes." Not only does this help in Pinterest search, but Pinterest boards can show up in Google search results as well.
You will also want to make sure all of your boards have descriptions using keywords. Use 2-3 sentences to describe your board with several keywords. Avoid "keyword stuffing" or just listing a bunch of keywords.
Step 3: Arrange your boards
Pinterest has a drop-down box with several ways to organize your boards. I prefer Drag and drop because I can put the boards in the order I want them. List your most popular boards first, as these are the boards someone will see first if they click on your profile.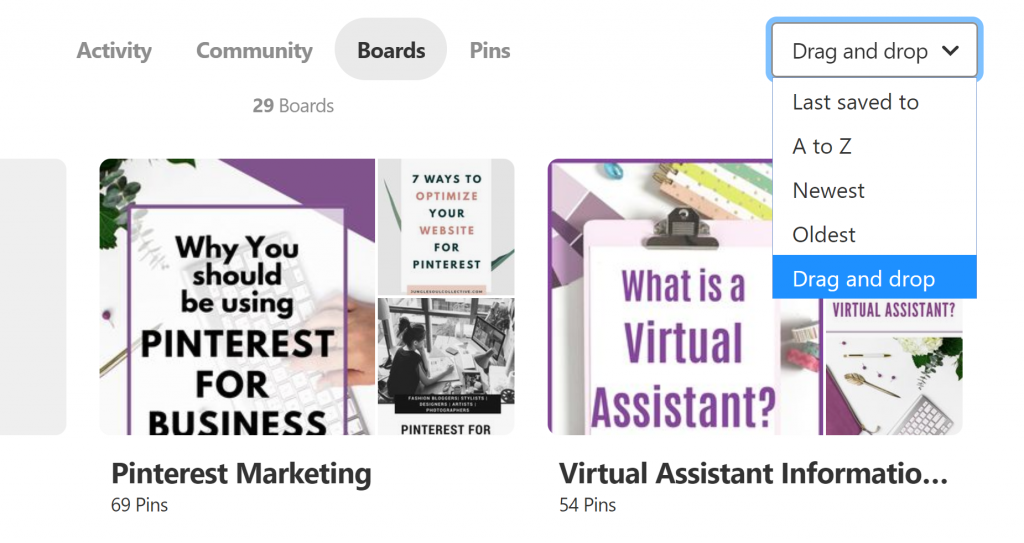 This post contains affiliate links. If you click on one of these links, I may earn a small commission after a purchase at no cost to you.
Step 4: Evaluate Group Boards
If you are in any group boards, make sure they are still relevant and active. Archive any group boards you want to leave, then you can add them again if you change your mind in the future. You can check your Group Boards in Tailwind under Insights>Board Insights to see how they are performing.
Board Sections
While you are in there editing your boards, you may notice you have the ability to create Board Sections. These are basically subcategories within your boards. The average Pinterest user may use them to organize their boards, but Pinterest has stated they do not affect keyword search for marketers. So you don't need to spend time organizing your boards into sections.
You're done! If you have completed these steps, your boards should be ready for more pins! If you haven't optimized the other parts of your profile, make sure you do that as well. You can check out my guide to make sure you have your keywords in all of the right places.
Need Help?
If these are steps you don't want to tackle yourself, let me help you. I offer a comprehensive Pinterest audit where I will provide specific recommendations for your account, making it easy to complete the clean up. I also offer a "Done For You" Pinterest Management package.