When I mention to people that I am a Virtual Assistant (VA) and describe what I do, the most common response is, "I didn't know that was a thing?!" Basically the only other time I got a different response was, "Yes, I know what that is, and I need one!" She later became my client!

If you are thinking about hiring a VA or considering becoming a VA, I am going to share some of the basics of what a virtual assistant is and does.
My simplest definition is a VA is an assistant that works virtually (anywhere there is internet!). Specifically for myself, I assist business owners with tasks they don't have time to do, don't want to do, or don't know how to do.

This post contains affiliate links. If you purchase from one of them, I may receive a small commission. I only recommend products I really believe in!
There are countless tasks a VA could do such as:

Social Media Management
Proofreading/editing
E-Mail Management
Pinterest Management
Blog Management
Bookkeeping
E-mail Marketing
Project Management
This is just a small sampling of the tasks available for a VA. You can check out this free resource that includes a list of 150 services a VA can offer!
Sometimes VA's go by different titles, especially when they are more specialized. Some examples are Social Media Strategist or Digital Marketing Consultant.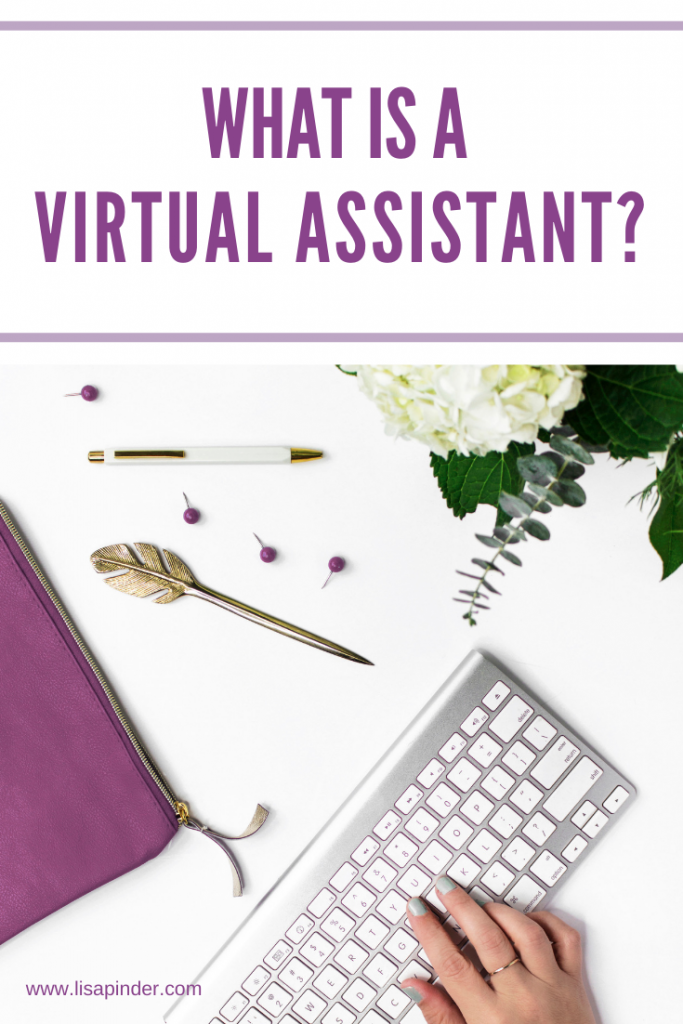 Why would a business owner hire a Virtual Assistant?

Save Money – A Virtual Assistant is a freelance contractor, so it is cheaper to hire a VA than an employee. They typically don't pay insurance, benefits, or employment taxes for the VA.
Save Time – Business owners are busy! When they can outsource tasks, they often find a great ROI because it frees up time for them to do other valuable things for their business.
Less Stress – Many times the tasks an entrepreneur needs to outsource are the things they hate doing the most. Once they get those tasks off their plate, work is more enjoyable for them. For example, take the person that has an inbox of 20,000 emails. Everytime they look in their inbox, they cringe and feel more stressed. If they had a VA help them clean out their inbox, and maintain it going forward, it would relieve a lot of stress. They would know their customers' emails are being responded to, and needs are taken care of in a timely manner.
How much does a VA charge?

There can be a great range of rates. Average is about $20-$40 and hour, but more specialized and experienced VA's can be in the $100/hour range. Many VA's work with packages of services for a set price, or on retainer.

Where can I find a great VA?

There is a great community of VA's at Horkey Handbook, fill out the form there, and your job opening will be shown to a group of great VA's with a vast range of skill sets.
Since writing this post, I have transitioned from a General VA (that does multiple tasks) to a specialized VA that does Pinterest Management Services. If I can help you with Pinterest, just fill out my contact form.

How can I become a VA?
There are a lot of great resources to learn to be a VA. I learned my skills through Horkey Handbook's 30 Days or Less to Virtual Assistant Success. The course has now been revamped into a membership called Fully Booked VA. This is a great course, with everything you need to get your business started. Fully Booked VA also offers training on specialized areas such as social media management, email management, and project management if you want to dive deep into those skill sets.
You also get access to the VA Leads community where you will get job leads to help you find clients! There are plenty of other resources out there to learn about being a VA, but I found a lot of value with Horkey Handbook, and not having to guess if what I was learning was accurate. With the new membership of Fully Booked VA, you will know that you are getting updated information and support!