Is it possible to grow your blog using Pinterest? It's hard for some people to see how Pinterest can help their businesses. They are focused on Facebook and Instagram followers/engagement and aren't sure how adding another "social media" profile will help them. I put quotes around "social media" because Pinterest isn't another social media platform. It is a visual search engine. With over 300 million users every month, it is a BIG search engine.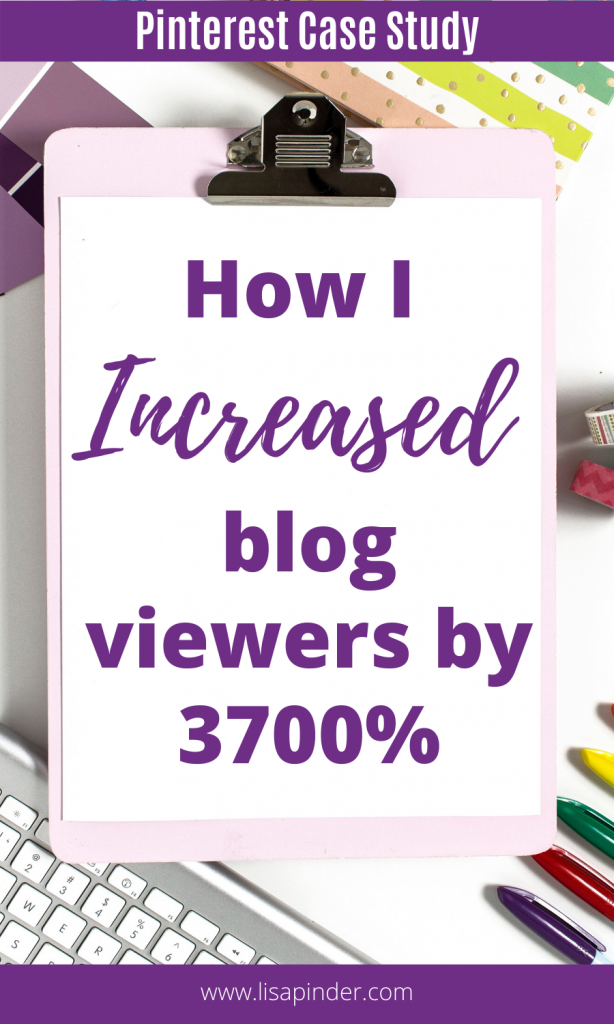 We all know how challenging it can be to rank high on Google, so why not climb to the top of Pinterest? Pinterest is where people are searching with the intent of buying. Isn't that where you want to be?
I helped a client do just that. She had a small blog with just a few views a month. She had a large following on both Instagram and Facebook but hadn't really jumped into using Pinterest for her business.
In just a few months' time, she had several viral pins and had pins that were ranking for her keywords. This was multiplying her traffic to her website and growing her e-mail list!
First, let's start with the Before…
Before I took over she had already converted her personal account to a Pinterest business account. However, she hadn't confirmed her website with Pinterest. That was one of the first things I did for her, so the analytics would show us data for pins from her website.
She had been using Pinterest for personal use, so a few things she had re-pinned were getting viewed, but not much. She had 3 followers. Luckily, Pinterest isn't dependant on follower count, so that didn't matter in getting her traffic.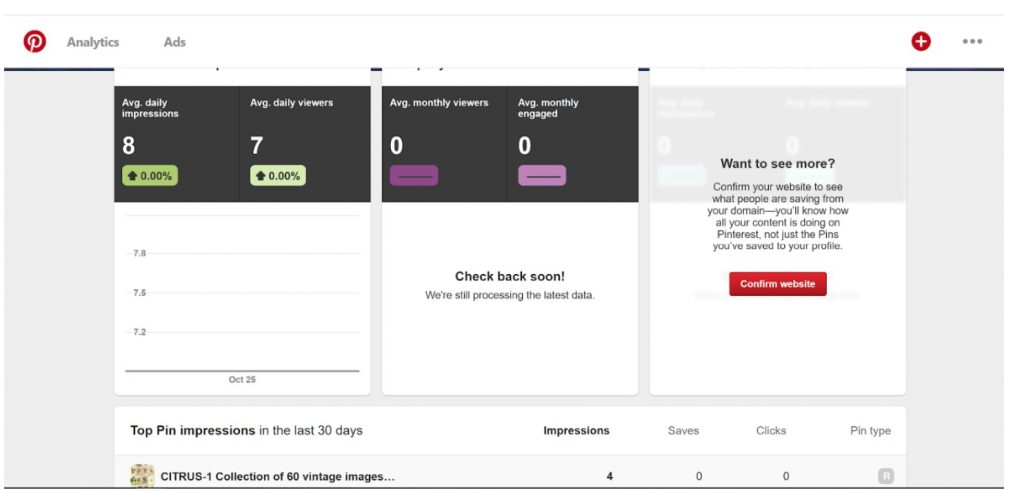 How to Grow your Blog using Pinterest
Profile Optimization
I started with optimizing her Pinterest profile. She is in the furniture painting and DIY business, so at the time, she had a picture of a dresser as her profile picture. We changed it to one of her branded headshots. This makes her account more personable, so if people check out her profile, they can see it's a real person behind it.
I also did keyword research to find popular keywords for her niche to add to her Display Name and Profile Description.
---
You can get my Profile Optimization checklist here, for more tips to power up your Pinterest profile.
Cleaning Up Pinterest Boards
Next, I worked on cleaning up her personal Pinterest boards. Anything that wasn't related to her niche was switched to a Secret board or Archived. She can still use the secret boards for her personal use. I also rearranged the boards, so the most relevant were at the top of her profile. This helps people that visit her account know what it is about.
I made sure the boards we kept or added had keywords in them to help with Pinterest SEO. I also created a board specifically for pins from her website. As pins were created, they were added to the most relevant board first, but then they also had a place on this branded board.
Pinning
When we started this process, this client only had a handful of blog posts and content to pin. For this reason, I was pinning mostly other peoples' quality content to build up the boards. This helps establish the boards, and helps Pinterest know what the board is about.
The pins I created were also created with keywords and hashtags to help the pins be found. Are you getting the idea? Keywords are important!
The Results
Within that first month, she saw a huge spike in viewers of her pins! A 35,758% increase to be exact!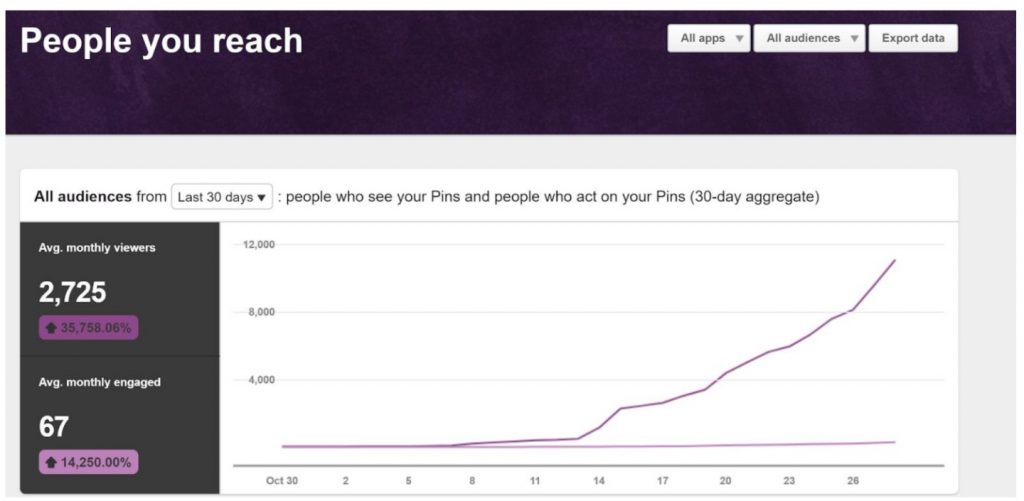 This post contains affiliate links. If you make a purchase after clicking a link, I will earn a small commission, at no cost to you. Privacy Policy
Pinterest has since changed the way they do their analytics, but she is now at about 210,000 impressions a month!
Now, I want to make it clear that the number of viewers is not necessarily an important number to watch. It is actually a vanity number because it doesn't equal conversions (sales, e-mail subscribers, etc.) However, in this case, I think it helps to show the growth of the account.
The numbers get more impressive when we look at the growth of clicks she started receiving to her website. She started with 151 views on her website in September 2018, and by September 2019 she was at almost 2,500 views per month! I realize some people get more than that in a day, but this is a big success for this client. She had an increase in visitors by over 3700%! Every client is different and will have different goals that I take into account.
Most of this was also done with manual pinning! She wasn't ready to invest in Tailwind, so we did the best we could without the benefit of scheduling and Tailwind tribes.
Now I require clients to have a Tailwind account. Tailwind helps with pinning consistently throughout the day without being on Pinterest all day. The benefit of Tailwind Tribes is also huge in getting your pins in front of other people!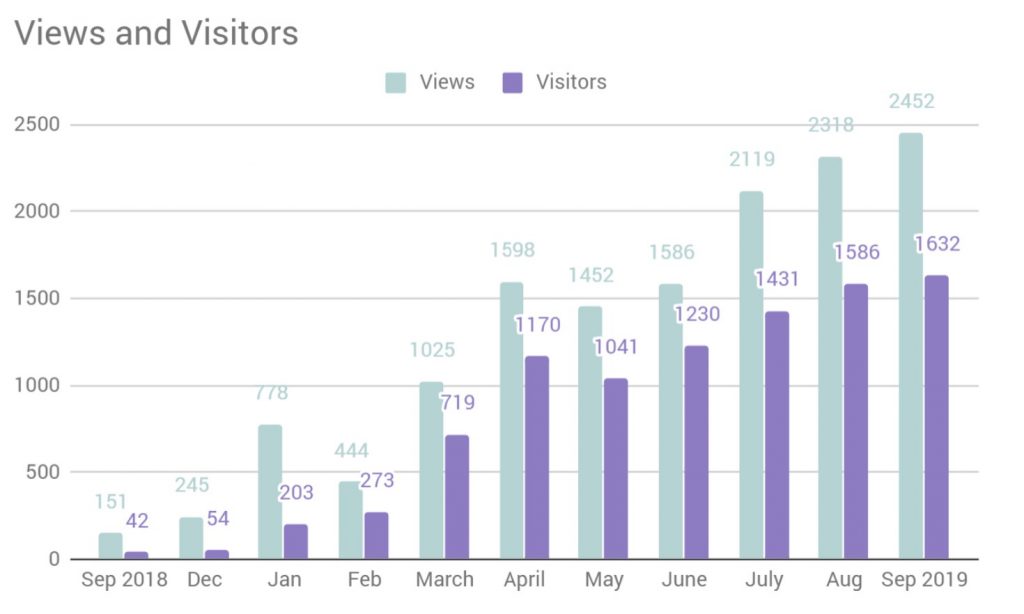 These website views are mostly from Pinterest! As you can see, 1,953 of her September views came from Pinterest, and 4 from Facebook.

The beauty of Pinterest is she is still getting traffic from pins we created a year ago! With Facebook, you're lucky to get a few days of traffic from a post.
I have no doubt this business will continue to grow, especially now that we are using Tailwind Tribes. I am looking forward to updating this case study with more growth in the future!
Conclusion
Pinterest is now a major traffic driver for this business, and an important part of their marketing strategy to get e-mail signups. She has even had new Facebook followers tell her they found her via Pinterest! Strategic and consistent pinning worked for this client.
Every business has different goals that we need to look at when creating a strategy. There is no single formula that works for all businesses or niches. Some can pin 5 times a day, some need to pin 30 times a day. Ideal size of pins can vary.
Results can also vary depending on how much content you already have to pin. These are all things I take into consideration when developing a strategy for my Pinterest clients.
Pinterest is definitely a slower growth platform, and you need patience to see results. I tell my clients that they need to give Pinterest at least 3-6 months to see results. And really, the 6-12 months range is when things can really start booming. If you are already getting large amounts of traffic from another platform, it may take more time to see the same results from Pinterest as those other platforms.
Are you ready to grow your business using Pinterest?
I would love to help you see results with Pinterest as well! You can view my Pinterest Management Packages or contact me to find out more!